Experience the best of Tokyo nightlife!
Bar hop with us! Your tour itinerary will include, unless otherwise specified:
Robot Restaurant ⇒ Omoide Yokocho ⇒  Golden Gai.
Read on to learn more and book an exciting pub crawl with us!
Constructed with a hefty price tag of 10 billion yen, the Robot Restaurant is where gigantic robots and acrobatic female dancers perform wild raving dances right in front of your eyes. Feel free to take photos and even pose with the robots in this chaotically fun venue where everything is alive with neon lights. 
The restaurant is the newest must-see spot in the Kabuki Cho district, attracting visitors from around the world, including some adventurous celebrities.
"Omoide-yokocho (Corner of Memories)" is located near Shinjuku Station. The history of this little shopping street goes back to the immediate postwar years.
Around 1946, the district was a devastated land covered by wreckage. Before there were stalls selling clothes, shoes, and daily products at the front of the station, and 30 to 40 booths sheltered with reed screens selling oden (various ingredients cooked in a Japanese-style broth), boiled potatoes, boiled red beans, tempura, tsukudani (seaweed boiled in soy sauce), and used books—it was all completely destroyed by fire.
After the disaster, "Lucky Street", a black market consisting of stalls divided by boards, appeared during the controlled economic era. Even during this time of war, the population remained steady because there were houses sheltering families who escaped war-torn areas and evacuated to their relatives living nearby in Setagaya, Suginami, and Nerima. Shinjuku was the train hub for those areas, and functioned as a terminal for transiting people and distributing supplies. Thus, people gathered to Shinjuku, and started to run their own businesses.
Even now, a majority of the shops are built in close proximity to each other. "Omoide-Yokocho" has continued to develop its inherited taste with reasonable prices and warm hospitality.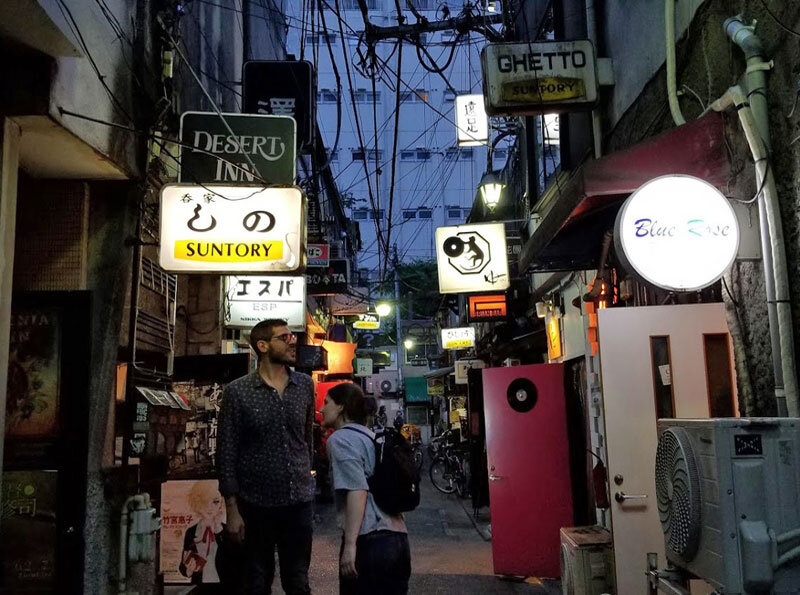 Golden Gai is a small area famous both as an area of architectural interest and for its nightlife. It is composed of a network of six narrow alleys, connected by even narrower passageways which are just about wide enough for a single person to pass through. Over 200 tiny shanty-style bars, clubs and eateries are squeezed into this area.
Shinjuku has a variety of interesting aspects such as the Tokyo Metropolitan Government and the gay district of Tokyo. Let's explore Shinjuku at night!
Duration: About 5 hours
Location: Shinjuku
Destination & Duration:
Robot Restaurant: 130min
Omoide Yokocho: 70min
Golden Gai: 70min
English Speaking Guide will meet and see you off at your hotel. It is a guided private tour for a small group. Please contact us by one week in advance.
Tour would include transfers, car/driver, English-speaking specialized field guide, activities and entrance fees,  dinner and drinks while touring and Travel Insurance. 
Why not try experiencing the best of Japanese culture together with us?