Onigiri, The Popular Japanese Rice Ball Snack
You might have seen or heard of "rice balls" which we call "Onigiri" in Japanese.  
Actually, the shape of an Onigiri is not round like a ball at all, but triangular!
Onigiri are easy to make and eat with one's hands, just like sandwiches are in Western countries. Traditionally, onigiri are filled with pickled umeboshi (plum), salted salmon, or any other salty ingredient as a natural preservative. 
Because of the popularity of onigiri in Japan, most convenience stores stock their onigiri with various fillings and flavors. Nowadays, onigiri are also found in many convenience stores in Hong Kong, mainland China, Taiwan, South Korea, Switzerland, and even parts of California.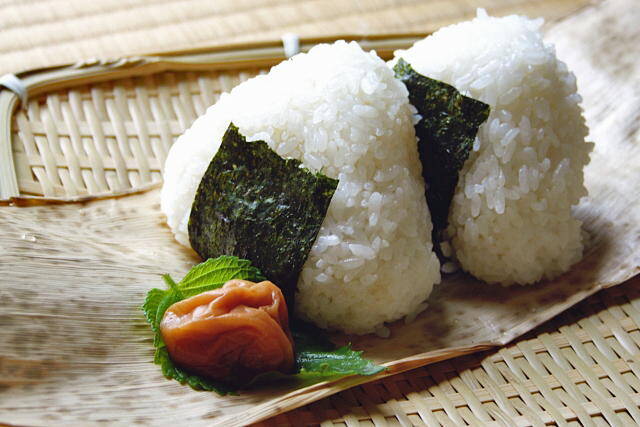 Despite common misconceptions, onigiri is not a form of sushi. Onigiri is made with plain rice, while sushi is made of rice cooked with vinegar, sugar and salt. Onigiri makes rice portable and easy to eat while preserving it, while sushi originated as a way of preserving fish. 
In lady Murasaki's 11th-century diary Murasaki Shikibu Nikki, she writes of people eating rice balls. At that time, onigiri were called tonjiki and often consumed at outdoor picnic lunches.
Other writings, dating back as far as the 17th century, state that many samurai stored rice balls wrapped in a bamboo sheath as a quick lunchtime meal during war. 
However, the origins of onigiri are much earlier even than Lady Murasaki.
Before the use of chopsticks became widespread during the Nara period (710-784), rice was often rolled into a small ball so that it could be easily picked up.
In the Heian period, rice was also made into small rectangular shapes known as tonjiki so that they could be piled onto a plate and easily eaten.
Today, onigiri is a snack that is both convenient and delicious.
Won't you try it?