the Grand Sumo Championship with no spectators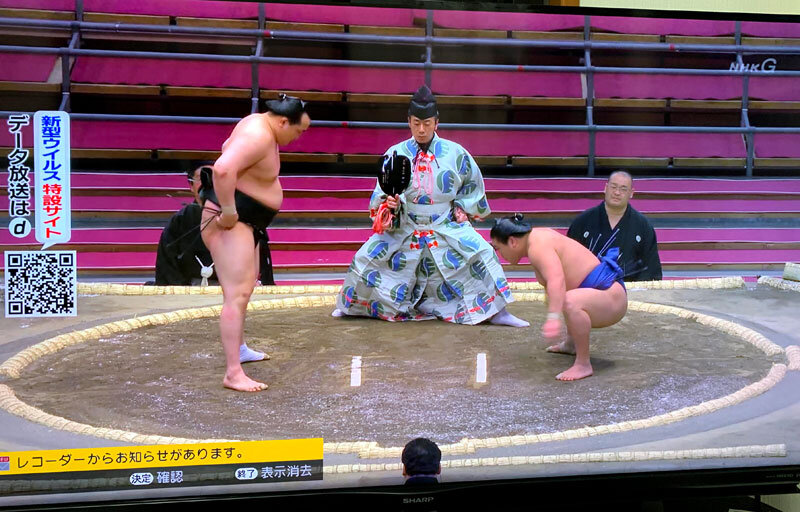 Welcome to our first newsletter in a month. How is everyone doing? 
I pray every morning to see positive coronavirus-related news, but there still seems to be more bad than good. This is clearly a formidable enemy, but we shall soon prevail.
On March 8th (Sunday), the early spring sumo wrestling competition started in Osaka, but due to the new coronavirus scare, there were no spectators allowed. The sumo wrestling will be broadcast every day for two weeks from 15:00 to 18:00 on NHK (Japan's public TV broadcaster) and on the radio.
 Sumo wrestling tournaments are held each year in January at Tokyo Kokugikan, March in Osaka, May at Tokyo Kokugikan, Nagoya in July, September again at Tokyo Kokugikan, and in Kyushu during November in the city of Fukuoka. Altogether, there are six tournaments a year. In addition to their wrestling activities, the wrestlers also travel around Japan, offering dedication to gods at shrines and interacting with local fans.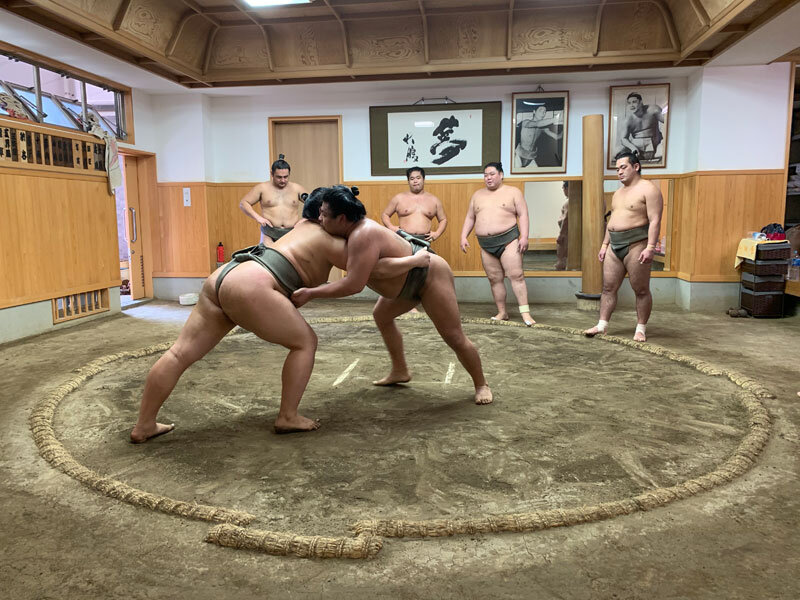 Each wrestler belongs to what is usually translated as a sumo "stable". The stables are run by a master and his wife, who is known as the "okamisan". Some well known Sumo morning practices are open to the public, while others are not. Some stables are open to the public, but the general public is not allowed to enter the practice room. Some rooms are only viewable through a gallery window, while others are open enough to get right up to the ring.
However, since the practice rooms tend to not be very large, the number of people who can enter is limited. They do not generally accept reservations, so if you are intent on seeing a morning practice at one of these facilities, please contact us. However, please do bear in mind that as the wrestlers have six sumo tournaments and make various pilgrimages each year, they are sometimes not at their stables for morning practice. Rest assured, we'll work as best we can with you and your calendar to make it happen.
It's fun and novel to meet real wrestlers up close in the morning, but I recommend watching actual sumo wrestling bouts for maximum thrill. Sumo wrestling traditions and ceremonies run deep, and seeing all aspects of this unique sport will certainly prove to be a highlight of your visit to Japan. There are three types of spectator seats. A "tamari" seat is an individual floor cushion right at or within a row or two of ringside. Difficult to obtain, and not suitable for young children (watch out for careening sumo wrestlers!), these seats also require spectators refrain from eating and drinking. Behind these seats are the "masu" seats, where eating and drinking is allowed, and spectators sit on floor cushions in areas divided off for groups of a few people or so. Finally, most rearward (and elevated), are the standard chair seats, which may be the best choice if you don't want to sit on the floor. The seating area can be a little tight, but it's all part of the experience! 
Of course, there's more demand than supply when it comes to seating, so most Japanese watch the tournaments on TV.
Are you coming to Japan and interested in experiencing sumo wrestling up close?
Leave it to us to get you top seating, even ringside if you wish.
For your easy reference, please refer to the sumo wrestling schedule below:
Tokyo: Kokugikan January, May, September
Osaka: March
Nagoya: July
Fukuoka (Kyushu): November
Note that tournaments run from a Sunday in the middle of the month to a Sunday two weeks later.
We look forward to hearing from you. It would be our pleasure to arrange a special sumo experience, and of course your adventures in Japan beyond the world of wrestling as well.

Mari Nozu
Founder & CEO Luxury Travel Japan®
Planning a trip to Japan?
Don't just plan a trip. Create a life-changing, luxurious adventure.
Luxury means different things to different people. It could be a lavish hotel room, a fine restaurant, high-end shopping, one-of-a-kind experiences, exploring one's personal interests without impediment, or even something intangible. 
Let us know your top trip priorities by applying for your initial itinerary proposal. We have prepared a host of suggested itineraries for your consideration and inspiration, but all trips can be modified to best suit your needs. Made exactly as you like it, naturally.