Shinkansen, Japan's Sleek And Efficient Bullet Trains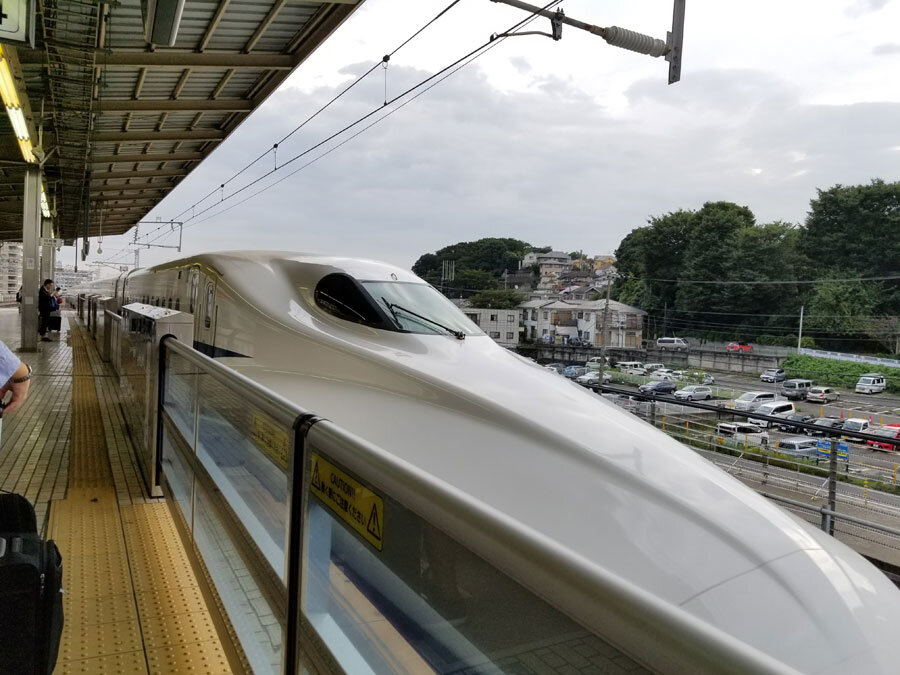 Shinkansen are the best way to travel around Japan.
Efficient, luxurious, and spacious, each seat includes modern comforts like cup holders, folding seatback trays, and power outlets. Food and drink is available for purchase. Luggage stowing and restrooms are included on each train. There are even smoking sections!
The best part about the experience is the convenience. Shinkansen depart stations regularly, sometimes by the minute. There are no security checks or long lines to wait in like at the airport. All you have to do to board a Shinkansen is buy your ticket.
The History of the Shinkansen - from humble beginnings to modern luxury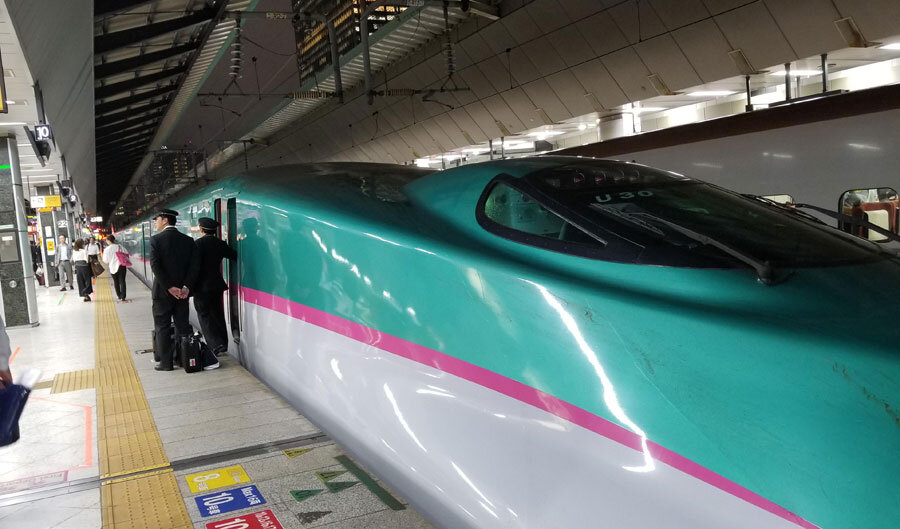 Bullet trains, or "Shinkansen" in Japanese, are operated by five Japan Railways Group companies: JR Central, JR East, JR West, JR Hokkaido, and JR Kyushu. Each company is in charge of a different region, but many of their lines connect and they all work together. 
It started with the Tokaido Shinkansen Line, which operated between Tokyo Station and Shin-Osaka Station starting in 1964. The Tokaido Line is still in operation today, but has changed over the years.
There are three types of trains on the Tokaido line: from fastest to slowest, they are the Nozomi, Hikari, and Kodama. Many Nozomi and Hikari trains continue onward to connect with the Sanyo Shinkansen, going as far as Fukuoka's Hakata Station down south.
The Hikari run from Tokyo to Osaka took 4 hours in 1964; this was shortened to 3 hours 10 minutes in 1965. With the introduction of high-speed Nozomi service in 1992, the travel time was shortened to 2 hours 30 minutes. The introduction of N700 series trains in 2007 further reduced the Nozomi travel time to 2 hours 25 minutes. As of March 2015, after a speed increase to 285 km/h (177 mi/h), the fastest Nozomi service now takes 2 hours 22 minutes from Tokyo to Shin-Osaka!
As of August 2008, Hikari services travel from Tokyo to Shin-Osaka in approximately 3 hours, with the local (a train that stops at every station) Kodama service making the same run in about 4 hours.
The Sanyo Shinkansen Line connects Shin-Osaka Station in Osaka with Hakata Station in Fukuoka, the two largest cities in western Japan. It is a westward continuation of the Tokaido Line and also serves other major cities in between on Honshu and Kyushu, such as Kobe, Himeji, Okayama, Hiroshima, and Kitakyushu. The Kyushu Shinkansen continues south of Hakata to Kagoshima.
The Sanyo Shinkansen connects Hakata with Osaka in 2 and a half hours, with trains operating at a maximum operating speed of 300 km/h (185 mph).
The Tohoku Shinkansen connects Tokyo with Aomori in Aomori Prefecture, making it Japan's longest Shinkansen line. On the afternoon of 11 March 2011, services on the Tohoku Shinkansen were suspended as a result of the Tohoku earthquake and tsunami. JR East estimated the around 1,100 repairs would be required for the line between Omiya and Iwate-Numakunai, ranging from collapsed station roofs to bent power pylons.
Limited service on the line was restored in segments: Tokyo to Nasu-Shiobara was re-opened on 15 March, and Morioka to Shin-Aomori was re-opened on 22 March. The line between Morioka and Ichinoseki re-opened on 7 April, Nasu-Shiobara and Fukushima on 12 April, and the rest of the line on or around 30 April, although not at full speed or a full schedule. The trains returned to full-speed operations on 23 September 2011 — just 6 months after the disaster!
The Hokuriku Shinkansen connects Tokyo with Kanazawa in the Hokuriku region of Japan. The first section, between Takasaki and Nagano in Nagano Prefecture, opened on 1 October 1997 and was originally called the Nagano Shinkansen. The extension to Toyama in Toyama Prefecture and Kanazawa in Ishikawa Prefecture opened on 14 March 2015.
Transportation in Japan is modern and highly developed. We carefully select the very best sights and activities, most of which are easily accessible by the cozy and efficient shinkansen trains. Let's create a trip with Luxury Travel Japan for your greatest memories.