The Many Ways To Enjoy Tokyo's Imperial Palace
"Kokyo" means "Imperial Palace" in Japanese, so we call a jog around the palace "Kokyo-running." 
Kokyo is a nice place to leisurely stroll around, but it also attracts a wide range of joggers. I have jogged around Kokyo many times. 
There are 3 reasons why I want to suggest jogging around the Imperial palace:
1.It is just 5 km (3.1 mi) around, with no vehicles or with no traffic lights at all, so it is safe as well as easy to know how long you are jogging.
2. There are 3 police boxes around the route and police officers patrolling, so it is quite safe to jog at night.
3. The scenery around the Palace is beautiful and you can enjoy flowers and trees every season.
There are too many joggers on weekends, so it's best to avoid on Saturdays, Sundays, and Japanese national holidays. Otherwise, it is the best place to run in the city.
Let's take a look at some other activities you can participate in, right in the Emperor's backyard!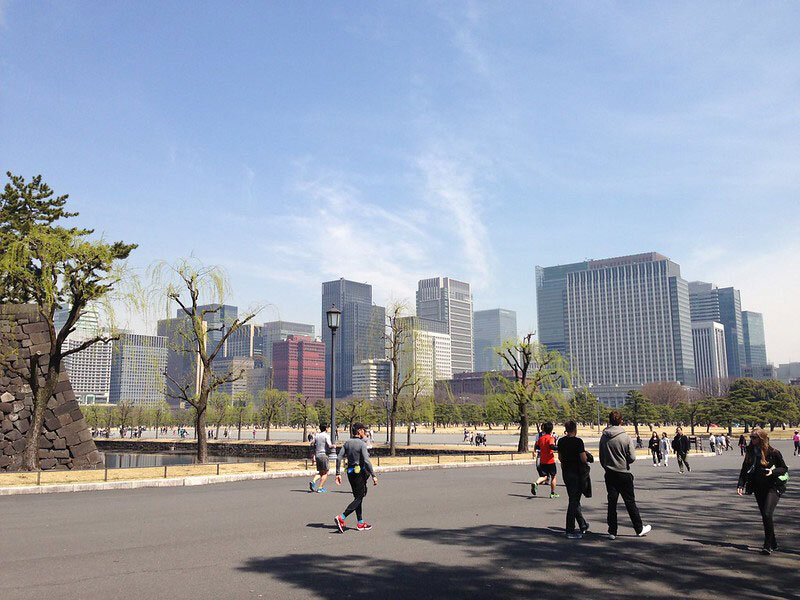 Every Sunday (except on rainy days and when special events are held), 150 free bicycles are provided for use along a 3 km (1.8 mi) model cycling course between Iwaida Bridge and Hirakawa Gate. It is a great Sunday activity for you to ride halfway around the Palace surrounded by castle moats and 2000 pine trees. The course is free of motorized vehicles on Sundays.
There are Japanese style bicycles, which you can ride on with kids who cannot ride bicycles themselves.
Fee: free of charge.
Location: beside the police box near Exit 2 of Nijubashi Station on the Chiyoda Subway Line. 
KOKYO HIGASHI GYOEN GARDEN (IMPERIAL PALACE EAST GARDEN)
Imperial Palace East Garden, which was opened to the public in 1968, is a beautiful garden where you can walk and enjoy nature. 
Formerly it was a part of the grounds of Edo Castle. The castle does not exist anymore, however, you can see it was there among the remaining ruins of old Edo Castle including the moats, walls, entrance gates and several guardhouses. 
This is a real hidden gem in the heart of Tokyo. Bringing Obento for your lunch only heightens the experience. 
The garden is closed on Mondays and Fridays.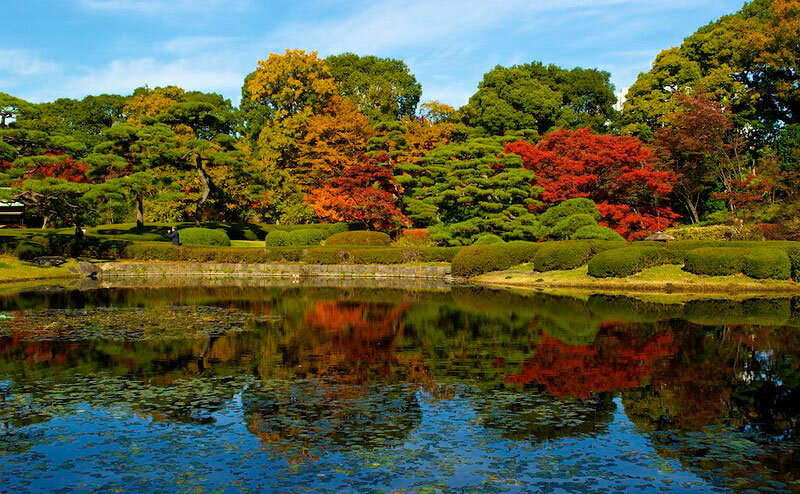 THE NATIONAL MUSEUM OF MODERN ART
The National Museum of Modern Art isn't a particularly large collection, but is a tiny boutique showing pieces of great quality. You will no doubt want to visit it if you are an art lover. This is located right across the street from the Imperial Palace.
You can also enjoy a very fine lunch in the restaurant on the second floor providing contemporary cuisine. There is also café so you can take a break anytime.
The museum is closed on Mondays.