Discover Bon Odori, Japan's lively day of the dead festival dance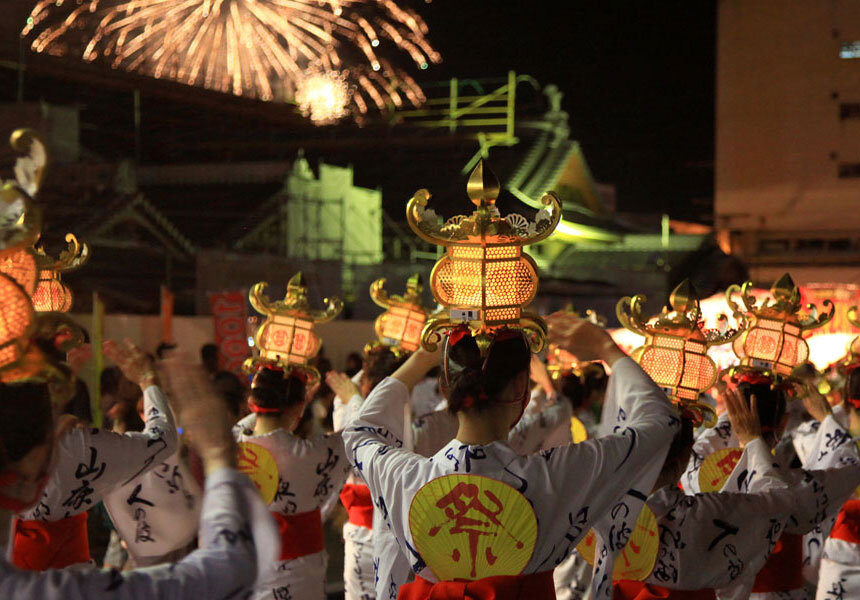 Many people around the world associate autumn with scary stories and graveyard visits, but Japan's sweltering summer is the season for celebrations of the dead. Obon
(お盆), also known as the Bon Festival or Festival of Souls, is a Buddhist holiday honoring the spirits of fallen ancestors. It is believed that each year during this time, the souls of one's relatives return to the world of the living to visit their kin, who in turn pay respects to the dead. 
Obon is deeply influential to the people and culture of Japan and is second only to New Year's in importance when it comes to national holidays. It combines both contemplative reflection and exuberant celebration through rituals, festivals, and prayer.
The annual three-day celebration officially starts on August 13 and ends on August 15, making Obon a staple of summertime revelry.
Read on to learn about the traditions and customs of this centuries-old holiday, including the jubilant Bon Odori dance!
Obon customs — welcoming the dead back home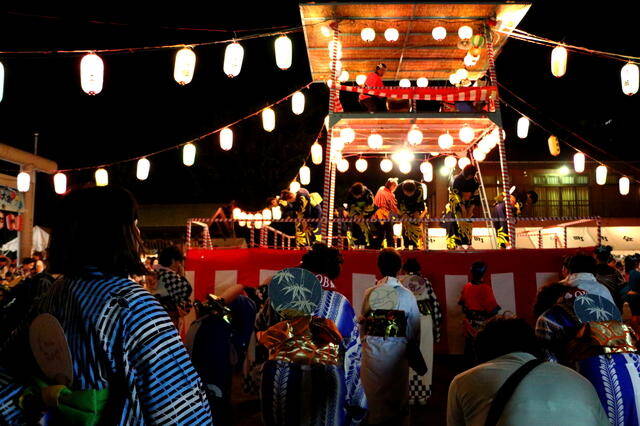 Obon is a family-centric holiday that involves a pilgrimage to the gravesites of deceased loved ones. This can mean a long trip if one has left their hometown, so many people take time off work. Obon also coincides with students' summer holidays. Unsurprisingly, this is one of the busiest times for domestic travel — and one of the most exciting!
Together, the family clean their ancestors' gravestones, offer fresh flowers and sake, and pray.
Most people participate in the above, but other ancient traditions are still followed by some. These include placing horse and cow figurines, made of cucumber and eggplant respectively, outside of one's home to guide the spirits.
Legend says these are vehicles for the dead to come and go. The horse helps the spirits return home quickly because the living wish to see them as soon as possible. The cow lets them go back to Anoyo (the "other world") or Jodo (the Pure Land) slowly so they may enjoy the scenery on their way back to the afterlife.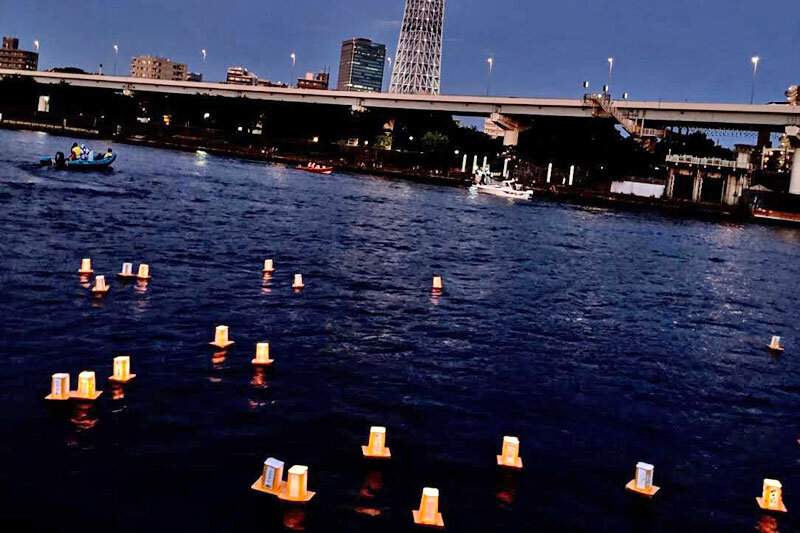 The figurines are believed to guide the spirits to and from the world of the living. 
A gorgeous ceremony called Toronagashi is another feature of the festival that takes plaec at the very end. Lit paper lanterns are floated down rivers across the country to guide the spirits back to the world of the dead.
The highlight of Obon, however, is a dance called Bon Odori, which entertains the spirits during their visit home.
Bon Odori — a spirited dance for the souls of lost loved ones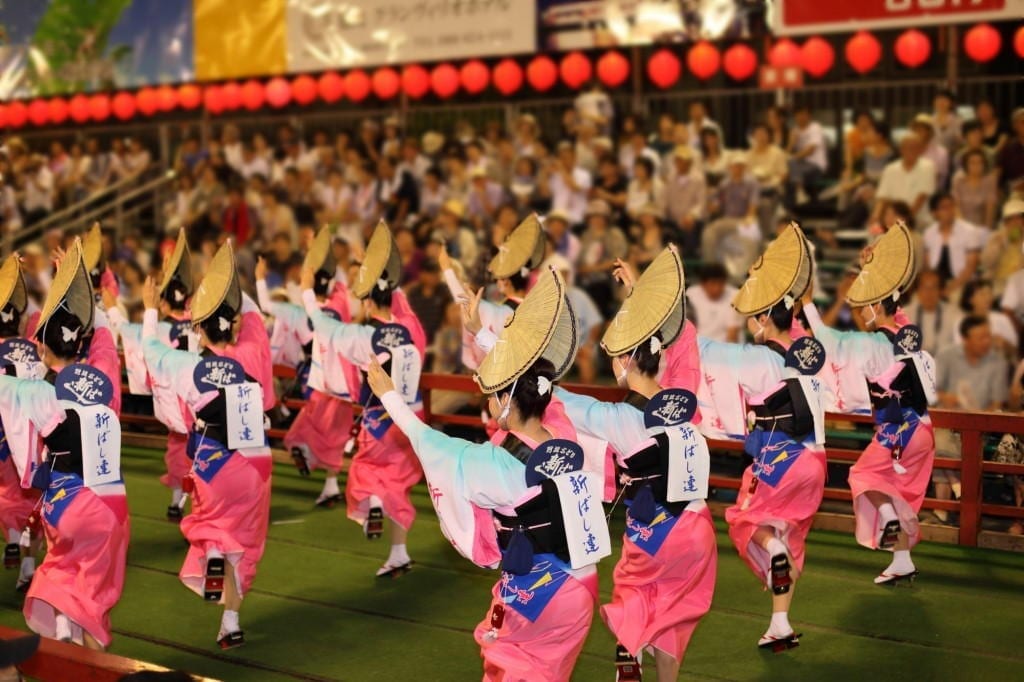 The vibrant Bon Odori dance spectacle is the most renowned aspect of Obon.
Odori is the Japanese word for dance. Specifically, it refers to a lively Japanese folk or theater dance. So, Bon Odori simply means "Bon Dance."
Today, Bon Odori has more entertainment than spiritual value, its Buddhist roots largely forgotten. Yet it remains an important feature.
A typical Bon dance involves people lining up in a circle around a high wooden scaffold called a yagura, which also serves as a bandstand for musicians. Obon dances tend to be repetitive, so it's easy for anyone to learn the moves and join in — which is encouraged!
Folks around the country gather for Bon Odori, which has become a symbol of summer, in parks, shrines, and temples. However, the style of dance can vary from region to region and some areas are particularly famous for their Bon Odori celebrations. Below are the top three.
Awa Odori in Tokushima
Awa Odori, or the Awa Dance Festival, is held from August 12 to 15 in Tokushima Prefecture located on the island of Shikoku. It is the largest dance festival in Japan.
Thousands of people in choreographed groups dance through the streets day in and day out. During the daytime the dance is more restrained whereas at night it becomes frenzied. The entire city participates as well as visitors from all over the world.
Gujo Odori in Gifu 
Gujo Odori is the second-largest Bon Odori festival. It takes place from mid-July to early September, but the main event is Tetsuya Odori. Held from August 13 to 16, it involves people dancing from evening until dawn.
Gifu Prefecture is located between Osaka and Tokyo near Nagoya, making Gujo Odori the most accessible Bon Odori festival in Japan.
Nishimonai Bon Odori in Akita
The Nishimonai Bon Odori includes an ancient dance that is actually a fusion of two dances dating back to a harvest festival 700 years ago. Performed by local residents to the music of taiko drums, shamisen, and wooden flutes, it is one of the oldest traceable dances and is considered a National Important Intangible Folk Cultural Property.
At Luxury Travel Japan, we're happy to help you design the festival experience of a lifetime. Check out our planned itineraries, or get in touch with us about customizing your own unforgettable Obon trip today!
PLANNING A TRIP TO JAPAN?
Luxury Travel Japan presents a variety of proposals to meet your needs and provide the very best Japan holiday for you. 
We have prepared a host of suggested itineraries for your consideration and inspiration, but all trips can be modified to best suit your needs.