Kiyosumi Teien, One of the Most Beautiful Japanese Gardens
The history, wildlife and exquisite stones all make Kiyosumi Teien a garden of timeless beauty. 
Formerly the grounds of feudal lord Kuze Yamatonokami's mansion in the Edo period (1603-1868), Mitsubishi founder Yataro Iwasaki purchased this area and made the beautiful garden in the early Meiji period (1868-1912).
Iwasaki made a special effort to bring in rocks with beautiful colors and textures from all over Japan to complete the stepping stone pathways known as Iso watari in the pond.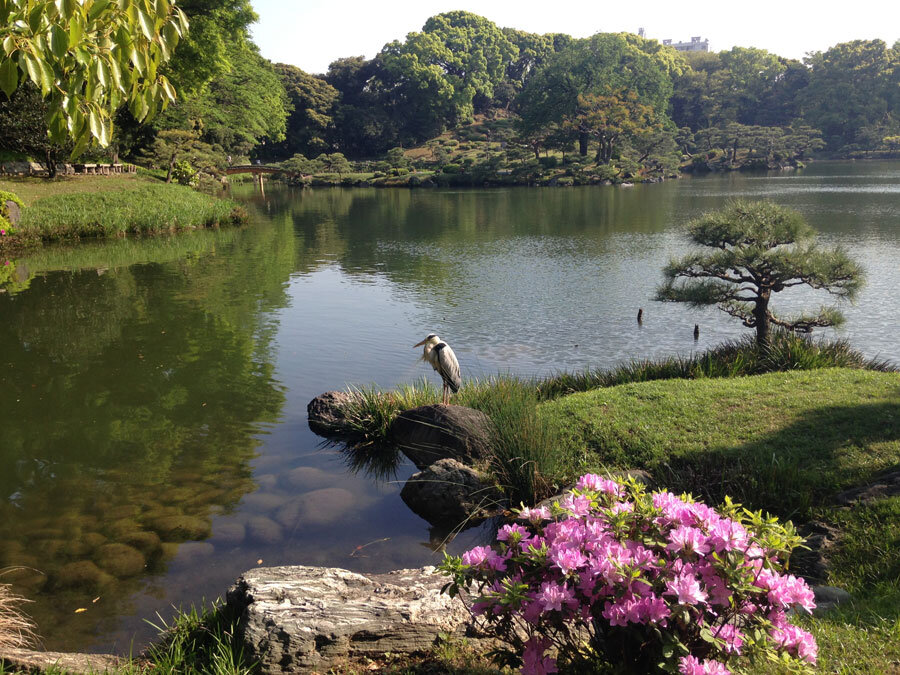 These pathways are a feature of Kiyosumi gardens, as they allow visitors the unique experience of stepping across the pond with carp, waterfowl and turtles all within touching distance. Watching giant beautiful colored carps swimming in the water makes me forget the time. 
Witness the grand assembly hall Taisho Kinenkan and the magnificent Ryotei Pavilion, which hovers over the far side of the pond. Built as a Sukiya-style teahouse, the pavillion was originally constructed in 1909 as a guesthouse for a visiting nobleman and is one of the garden's main focal points.
The garden suffered extensive damage during the Great Kanto Earthquake (1923) and the Second World War (1941-1945), but still remains one of the finest examples of a Meiji period strolling garden.
Though Ryotei Pavilion is not available to enter at short notice, we can arrange the traditional Koto live music and lunch at the pavilion and the view from the platform is second to none.